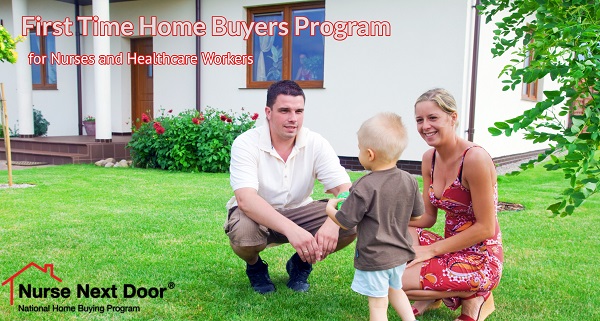 If you are a nurse or healthcare employee and have not owned a home in the past three years, you are eligible to participate in the Nurse Next Door® First Time Home Buyers Program.

Benefits for First Time Home Buyers:
NO application fees / NO up-front fees
Easy application process and up-front pre-approval.
NO 4-hour home buyer class
Simple Docs Program™
Low down payment options for first time home buyers.
Purchase ANY home on the market
GRANTS up to $8,000.00
Down Payment Assistance up to $10,681.00
Home loans for first time home buyers.
Preferred interest rates
FREE appraisal (up to $545.00 credit at closing)
FREE home buyer representation
FREE access to (MLS) home listings
FREE nationwide access to foreclosures
Discount title fees for first time home buyers
Who is Eligible:

Nurses (RN, LPN, NP)
CNA's
Doctors
Medical Assistants
Medical Staff
Specialists
Orthodontists
Endoscopy / Radiology Techs
Lab Techs
Chiropractors
Dentists
Veterinarians
Hospital Employees
Pharmacist
Beyond Grateful!
"I honestly thought I'd have to give up my dream of owning my own home, but Danielle proved me wrong. My credit wasn't the greatest, but she worked with me and made it happen anyway. I am beyond grateful to her and her team (especially) Sarah for working so hard to make this dream come true for me and my family. Not only did they help me secure a fair interest rate and down payment, they introduced to us to the best realtor around who helped us into a home in 2 months! I would absolutely recommend this program to any teacher whose dreamed of owning their own house."
Elizabeth Jordan,
Orlando, FL